KC Claffy among "10 Women to Know in Networking/Communications"
CNS faculty member and principal investigator/founding director of the Center for Applied Internet Data Analysis (CAIDA) at the San Diego Supercomputer Center (SDSC), KC Claffy, has been named to the second annual "10 Women in Networking/Communications That You Should Know" list.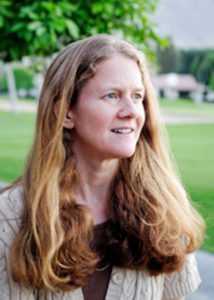 Now in its second year, the list is compiled and coordinated by N2 Women (Networking/Networking Women), a discipline-specific community for researchers in the communications and networking research fields. The organization's main goal is to foster connections among under-represented women in computer networking and related research fields. The full list of this year's award recipients can be found here.
Nominations are solicited both from the N2Women community as well as through several mailing lists related to networking and communications. More than 150 people from around the world submitted nominations, resulting in over 140 distinct names of accomplished women in the field, according to the organization.
A committee of five N2 Women board members selected this year's 10 honorees. "Many people from around the world submitted one or more nominations for this list, and it was very difficult to choose only 10 amazing women," said Oana Iova, a postdoctoral researcher in the D3S  research group with the Department of Information Engineering and Computer Science (DISI)  at the University of Trento, Italy , and the awards co-chair who led the nomination and selection processes this year. "We focused on women who have had a major impact in networking and/or communications. We also wanted a list that reflected presented our diversity, and specifically the diversity in the area of networking/communications."
"I am honored to join such a distinguished group on this year's N2 Women's list," said Claffy, who founded CAIDA in 1997 as a collaboration among commercial, government and academic research sectors to promote greater cooperation in the engineering and maintenance of a robust, scalable global internet infrastructure. "I encourage other women working in networking and communications to attend or help organize an N2Women event at their next ACM, IEEE, or other relevant conference or workshop."
Today, CAIDA's research interests include internet cartography, or detailed analyses of the changing nature of the Internet's topology, routing and traffic dynamics. CAIDA also investigates the implications of these changes on network science, architecture, infrastructure security and stability, and public policy.
Earlier this year CAIDA was awarded a $1.4 million grant from the U.S. Department of Homeland Security to demonstrate and illuminate structural and dynamic aspects of the Internet infrastructure relevant to cybersecurity vulnerabilities. These aspects include macroscopic stability and resiliency analyses, grey markets for IPv4 addressing resources, and on-demand router-level topology inference.
In 2015, Claffy received the IEEE Internet Award for her "seminal contributions to the field of Internet measurement, including security and network data analysis, and for distinguished leadership in and service to the Internet community by providing open-access data and tools," according to a notice published by the institute .