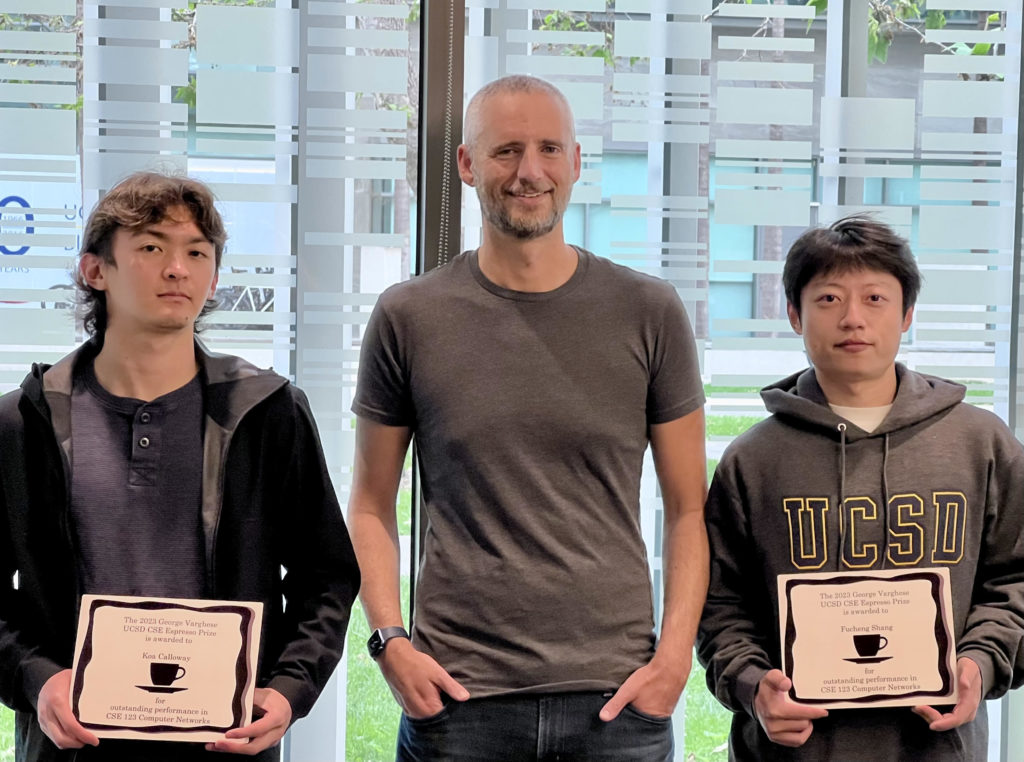 The CNS Espresso Prize for Excellence in Networking was awarded by Assistant Professor Aaron Schulman to UCSD undergraduate students Fucheng Shang and Koa Calloway for their outstanding final project in CSE 123 (winter quarter 2023).
Every academic year, the Computer Science and Engineering department offers the class CSE 123, Computer Networks. In this class, students are introduced to concepts, principles, and practices of computer communication networks with examples from existing architectures, protocols, and standards. Students are expected to complete a final project showing how they use the concepts they have learned to resolve a problem posed by the instructor.
Dr. George Varghese, a former CSE professor, taught CSE 123 for almost a decade and always enjoyed seeing the many ways that students implemented their final projects. When Dr. Varghese departed from UC San Diego in 2013, he left behind a gift to fund an annual prize to be awarded to the students who produce the best final projects in CSE 123.
The CNS Espresso Prize for Excellence in Networking is awarded by the current professor for CSE 123, Aaron Schulman, based upon criteria set by him for the given final project assigned each year.
Calloway has accepted an offer at Keysight Technologies as a Software R&D Engineer for their Network Test division and Shang is currently enrolling in CSE's master degree program.
Previous Recipients of the CNS Espresso Prize for Excellence in Networking:
2023 Undergraduate recipients: Fucheng Shang and Koa Calloway
2022 Undergraduate recipients: Yibo Wei, Dylan Ellsworth, Joshua Kuschner
2018 Undergraduate recipient: Weiyang Wang
2017 Undergraduate recipient: Christian Chung
2017 Undergraduate recipient: Yihan Zhang
2016 Undergraduate recipient: Conner Johnston
2014 Undergraduate recipient: Aaron Yip Ming Wong
2014 Visiting Undergraduate recipient: Matheus Venturyne Xavier Ferreira
2013 Undergraduate recipient: Jacob Maskiewicz
2013 Graduate recipient: Vidya Kirupanidhi