Mike Brady, Senior Vice President of Kaiser Permanente Infrastructure Management Group
Abstract: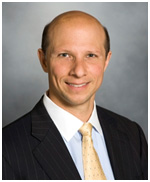 During his presentation, Mike Brady will share with the audience the drivers behind the transformation of KP's infrastructure group from a back-office, cost center that is a project-focused, 100% custom shop to a service-centric model offering standard products and services that are predictable, cost competitive and user-friendly to its customers.
Mike will share his personal journey leading the transition of the infrastructure organization's more traditional operating model to one that serves its customers as a strategic technology partner focused on service delivery and the development of end-to-end solutions that solve real-world business problems to meet customer needs. All while driving cost efficiencies and reducing the total cost of operations. Mike will share the lessons he's borrowing from other leaders of industry including Hewlett Packard, Amazon and EMC who have made similar operating model transitions, and how he is employing those strategies in the infrastructure group's transition.
Mike will provide real examples of how things work today, and how they will work in the future once the transition to the new operating model is complete. The end goal being to transform the infrastructure group from a collection of functional area siloes into an infrastructure service provider – allowing us to shift the conversation with our business partners from talking about technologies and requests to talking about what infrastructure services they need us to provide to allow them to focus on improving care delivery and patient outcomes.
Kaiser Permanente is one of the nation's largest not-for-profit health plans, serving more than 9 million members, with headquarters in Oakland, Calif. It spans 8 Regions across the country and delivers care through its network of 37 hospitals, 611 medical offices, 64,000 physicians and nurses, and 173,000 employees.
The Infrastructure Management Group of Kaiser Permanente is made up of 1,900 full-time equivalent employees who are responsible for ensuring the continuous availability of systems and information associated with the organization's 250,000 desktop and laptop computers including 5,000+ applications running on 11,000+ computers in 5 national data centers with 6,900+ terabytes of storage.
Bio:
Mike Brady currently serves as the Senior Vice President, Infrastructure Management Group, Information Technology at Kaiser Permanente.
Mike's Infrastructure Management Group, working in partnership with other IT organizations, manages and operates technology systems throughout Kaiser Permanente. With over 250,000 computers, 305,000 telephones, and five data centers – Mike's team works around the clock to ensure high performance and systems availability. In addition to hardening the current platform, they are developing new platforms that include Windows 7, iPhones and Cloud Computing to support care delivery and the best service.
Mike is a seasoned IT executive with over 25 years of infrastructure leadership for companies like General Electric, Merrill Lynch and Fidelity Investments. He has an established track record of building, leading and operating exceptional global infrastructure organizations that are highly focused on continuous service, quality improvements, cost efficiency and customer satisfaction. He has demonstrated achievements with telecom, Internet systems, mainframes, trading and critical infrastructure support across financial, consumer, entertainment, and industrial businesses. Mike was recognized in 2011 as one of Computer World's Top-100 IT Leaders across the country.
Mike joined Kaiser Permanente in February 2009 from Fidelity Investments, where he led infrastructure initiatives, most recently as the SVP Infrastructure Engineering. In this role, Mike designed, implemented, and optimized all aspects of infrastructure technology supporting over 24 million multi-channel customers. Those high availability systems securely moved over $3 trillion in assets across 30+ countries with speed and reliability. His approach to IT Service Management and systems there was featured in CIO magazine.
Previously Mike was the first vice president of Network Services at Merrill Lynch, leading their September 11th network and infrastructure recovery. He was recognized as one of Network World's Top-50 Network Executives and his team's technical solution was featured in the Wall Street Journal.
Mike also held executive positions at Citicorp and General Electric while attending Golden Gate University and GE's Management Development Institute. He was awarded a U.S. Patent in 2010 for Security Intrusion Mitigation and recently completed the Executive Leadership program at the Harvard Business School.