Alan Turing Memorial Scholarship Awarded to Valeria Gonzalez!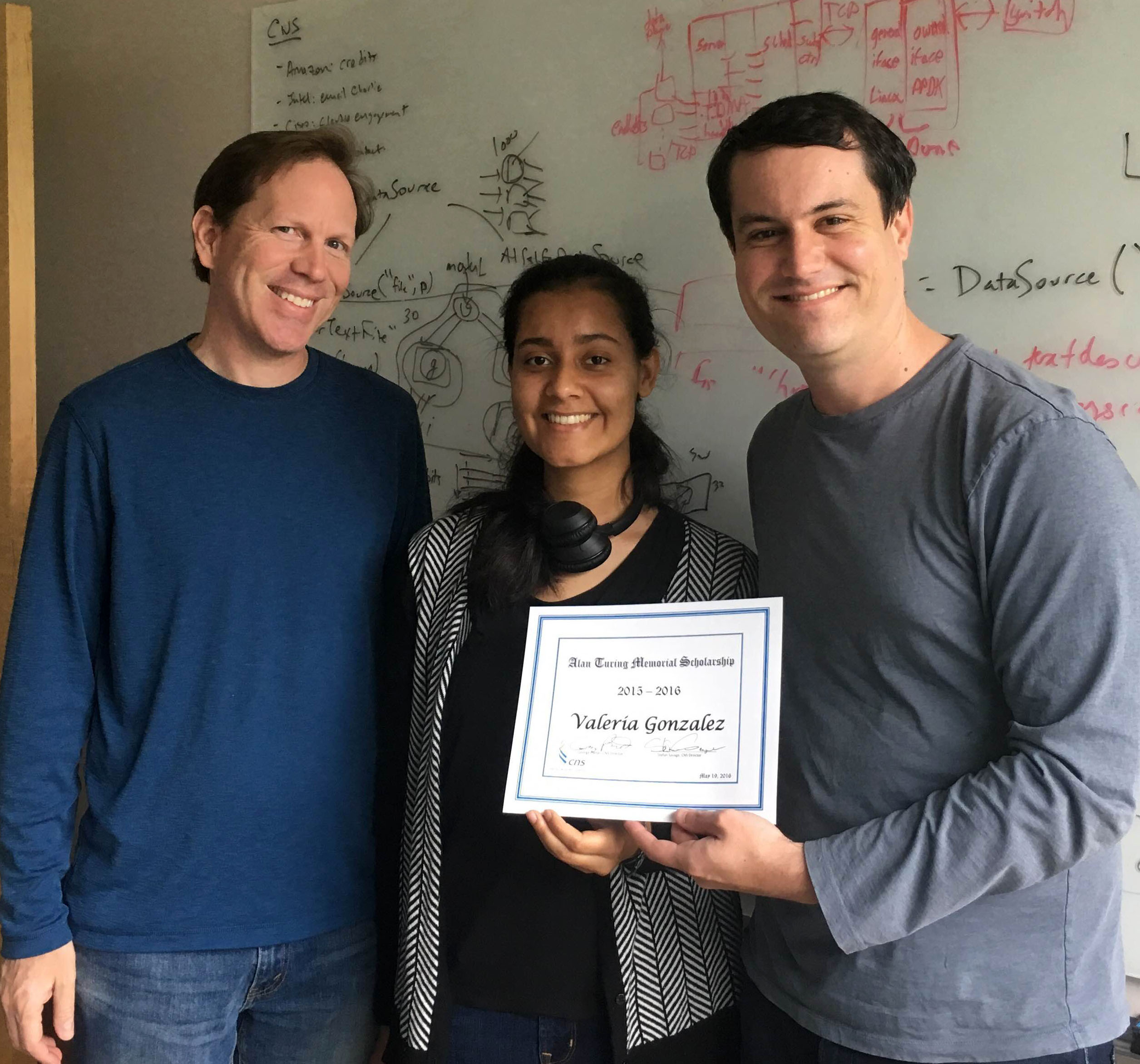 The Center for Networked Systems (CNS) is proud to announce Electrical Engineering undergraduate Valeria Gonzalez as the recipient of the Alan Turing Memorial Scholarship! The 2015-2016 academic year is the inaugural year for the Turing ($10,000) scholarship and is awarded to a UC San Diego undergraduate student majoring in computer science, or any program touching on networked systems, who is active in supporting the LGBT community. All scholarship recipients will have the opportunity to be involved in CNS research projects of mutual interest and will be invited to the CNS Research Reviews.
While the campus scholarship office handled applications, CNS co-director and CSE Prof. George Porter says the center was impressed with Gonzalez. "We met with her and she's a wonderful person and very interested in research, which is great," said Porter. "I am confident that she'll attend graduate school and continue her pursuit of research."
"I am very excited and honored to have received the Alan Turing Scholarship," wrote Gonzalez in a Facebook post. "It's great to see the CNS is taking the initiative to highlight the importance of bringing diversity to computer science and engineering beyond ethnicity and the gender binary. The LGBT community encompasses people with an array of talents and abilities, people such as Alan Turing himself and his pioneering work in computer science. Knowing that your LGBT identity is acknowledged and accepted not only lets you direct all your focus into working hard but also allows you to connect more with the community you're part of."
Gonzalez expects to graduate in 2017, but she has already had the opportunity to engage in hands-on research (a key factor in winning the Turing scholarship). Starting last summer, she was an undergraduate student researcher in the Integrated Electronics and Bio-Interfaces Lab under her advisor, ECE Prof. Shadi Dayeh. Gonzalez grew up in Paramount, a small city east of Compton in the southern part of Los Angeles County. She attended Cypress College, a comprehensive community college near Paramount, and later transferred to UC San Diego.
More information about the scholarship
Please donate here