Center for Networked Systems Adds New Faculty Members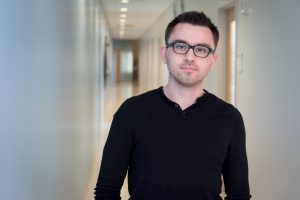 The Center for Networked Systems (CNS) at the University of California San Diego now has 22 faculty membersfollowing the addition of two new professors to its ranks.  Both newcomers – Deian Stefan and Aaron Schulman – joined the Computer Science and Engineering (CSE) faculty as assistant professors recently, with Stefan starting to teach last fall, and Schulman this winter.
"Professors Schulman and Stefan both work in the systems area, but their research interests also go well beyond networked systems," said CNS co-director George Porter. "Both share an interest in secure systems. Schulman's interests extend to embedded systems and even operating systems, and Stefan's other major research focus is on programming languages. Both have a lot to bring to CNS's research agenda."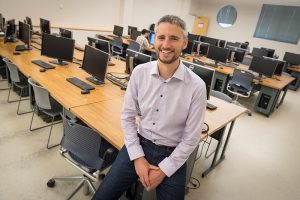 While still doing a postdoc at Stanford, Aaron Schulman founded a company called Mellow Research, LLC, to build BattOr, a power monitor he invented to track how much energy different features of applications use while running on mobile phones. For his part, Deian Stefan delayed his start at UC San Diego by a year to finish launching a web security startup called Intrinsic (formerly GitStar), in which he continues to hold the part-time job of Chief Scientist. "At Intrinsic we've been transferring research into practice by building systems, tools and languages that ultimately make it easier for developers to build and deploy Node.js web applications with minimal trust," said Stefan.
Both Stefan and Aaron Schulman came to UC San Diego from Stanford University. Stefan earned his Ph.D. in Computer Science in 2015, while Schulman was a postdoctoral researcher from 2013 to 2016 in the lab of Stanford professor Sachin Katti. Schulman earned his Ph.D. from the University of Maryland, College Park, in 2013 (with a thesis on the reliability of Internet last-mile links that later won him the SIGCOMM Doctoral Dissertation Award).
Deian Stefan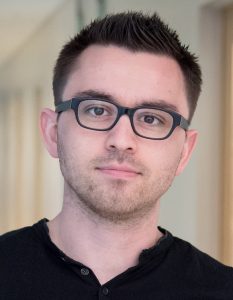 According to Stefan, his primary research interest is in "building principled and practical secure systems." He builds browsers and language runtime systems by applying programming language techniques and analysis. Among the secure systems Stefan has also helped to build: a secure package manager; a browser confinement system designed for modern web applications; a security-centric framework for building web platforms; a dynamic information flow control system; and a programming language for writing secure, constant-time code.
The professor serves as editor of the COWL specification, and he participates more broadly in developing specs as a member of the W3C WebAppSec and Node.js Security working groups. "By working on specifications," said Stefan, "we're trying to broadly influence browser and runtime systems that will ultimately make the web a safer place."
Stefan began teaching in CSE in Fall 2016, with a course on language-based system security called "Building Secure Systems using Programming Languages and Analysis" (CSE 291). This winter quarter, he is also teaching an undergraduate course, CSE 130 (Programming Languages: Principles and Paradigms), which covers basic concepts and design tradeoffs related to programming languages (including crash courses in JavaScript and Haskell).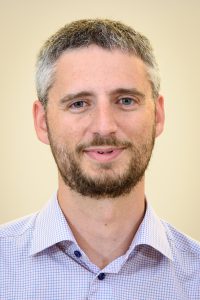 Aaron Schulman
Schulman started on July 1, 2016, but delayed making the move from Palo Alto until late in the year. As of this winter, he is teaching his first course at UC San Diego — a graduate-level course on topics in mobile computing and communication (CSE 291).
In his syllabus for the course, Schulman notes that students are learning about the challenges facing smartphones, wearables and smart devices that have overtaken PCs as the dominant platform for computing and communication. "Mobile devices have severely constrained energy capacity, their network connectivity is exclusively provided by unreliable, bandwidth-constrained wireless links, and they carry a standard set of sensors that are seemingly insufficient for certain applications and also can inadvertently leak private information about their users," explained Schulman. "We discuss research that addresses the challenges introduced by the mobile platform by blurring the lines between traditional research areas in computer science."
In past work, Schulman has improved the efficiency of wireless networks, cellular network flexibility, and the energy efficiency of mobile applications. He also quantified residential Internet network reliability, made progress in securing the web's public key infrastructure, and identified privacy leaks in mobile devices.
Related Links
Center for Networked Systems
Aaron Schulman Website
Deian Stefan Website