Alan Turing Memorial Scholarship Recognizes Two Outstanding Scholars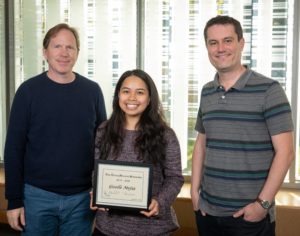 Each year, the Center for Networked Systems (CNS) awards the Alan Turing Memorial Scholarship to one or more students for their academic commitment, particularly in networked systems, and their ongoing support for the LGBTQ community.
Thanks to a generous grant from the Motorola Solutions Foundation, Giselle Mejia, a fourth-year student studying cognitive science with a specialization in design and interaction, is now among the 2019 Turing Scholarship recipients. A second student, who wishes to remain anonymous, was also recognized and will be awarded a scholarship through support from CNS.
"This year, the Alan Turing Memorial Scholarship has been awarded to two amazing students," said associate professor and CNS co-director George Porter. "We're very thankful to the Motorola Solutions Foundation for their generous support of this meaningful scholarship program and for making this opportunity possible."
The Motorola Solutions Foundation impacts underrepresented populations—including females, minorities, people with disabilities, veterans and more—through its grants program.
Honoring Alan Turing and Celebrating Inclusiveness
The Alan Turing Scholarship was established in 2015 by CNS, an interdisciplinary computer science research center in UC San Diego's Computer Science and Engineering Department.
The award pays homage to Alan Turing, the famed codebreaker and mathematician whose work accelerated the Allied victory in World War II. After the war, Turing was persecuted for his orientation as a gay man and died by suicide in 1954.
The scholarship honors Turing for his brilliant achievements and supports an inclusive, diverse environment in computer science. In addition to their LGBTQ support, scholarship recipients are selected for academic merit and financial need.
"We are very pleased to support the work of CNS and the goals of the Alan Turing Memorial Scholarship at UC San Diego," said Monica Mueller executive director of the Motorola Solutions Foundation. "We believe in organizations that foster innovation and drive change and we're proud to be part of the positive impact they are making in the community."
Giselle Mejia: 2019 Alan Turing Scholar
As a 2019 Alan Turing Scholar, Mejia will receive a stipend and have unique opportunities to conduct research with a CNS faculty mentor. Coming from an economically disadvantaged household, Mejia appreciates the financial support. However, she was compelled to apply for personal reasons.
"I saw the Alan Turing scholarship description, and it really called out to me," said Mejia. "It matched what I am studying and what I want to represent."
She did not always feel that way. Mejia grew up in a household where the LGBTQ community was not accepted. As a child, she never questioned these views, but as she grew up, and got to know friends and relatives within the community, she realized these attitudes were simply wrong.
"My world began as a simple, ordinary house and a small family," said Mejia in a thank you letter to CNS. "To me, all that I knew and learned was traditional in the Philippines. My world, however, grew into a street; and then a town; and then a world with families and friends and their families."
Since this epiphany, Mejia has actively supported the LGBTQ community and has participated in the San Francisco Gay Pride Parade.
"The parade was just beautiful," she said. "It brings together this large community and gives them lots of space to express themselves and meet new people who accept them and give each other encouraging words. It's a safe haven with so much peace. I learned a lot from walking those parades."
On the academic side, Mejia's studies have provided her with a foundation in cognitive science, communications, computer science, and the visual arts. She hopes to integrate these interdisciplinary approaches as she moves forward in her career.
"I want to take all the things I've learned from computer science and technology, coupled with the brain, and really go into AI," said Mejia. "I want to create technology that will bridge the gap between computers and people."
After graduation, Mejia plans to look for a job in Silicon Valley or elsewhere in the Bay Area. The Alan Turing Memorial Scholarship caps off an impressive four years at UC San Diego, which she will deeply miss.
"It's pretty bittersweet," said Mejia. "I love this school; it helped me grow in so many ways. But it also prepared me, and I'm excited to go out in the real world."