CNS Awards Travel Grants to Two Graduate Students in Computer Science
For female students in particular, attending the annual Grace Hopper Celebration of Women in Computing can be a critical launching pad for careers in computer science in either academia or private industry. For that reason, UC San Diego's Center for Networked Systems (CNS) provides funding each year to help defray the cost of attending the Grace Hopper Celebration for one or two deserving women who represent the next generation of female computer scientists who want to play leadership roles in helping other women make it in computer science.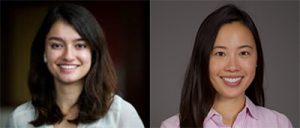 Looking ahead to the 2017 conference Oct. 4-6 in Orlando, FL, CNS has picked two deserving students to receive this year's CNS Grace Hopper Travel Grants. Both Ariana Mirian and Stephanie Chen are graduate students: Chen is working on her M.S. in Computer Science with a focus on Machine Learning, and Mirian is a Ph.D. student co-advised by CNS Director Stefan Savage and CSE Professor Geoffrey Voelker.
Ariana Mirian is the incoming president of the Graduate Women in Computing (GradWiC) group at UC San Diego for the 2017-2018 academic year (taking over as president from Ailie Fraser). She also received an award for Contributions to Diversity, which she accepted recently at the CSE Departmental Awards Ceremony. Mirian is going into her second year of the Ph.D. program, with research interests in security and privacy, notably at the intersection of empirically-based measurement and usable security. In addition to CNS, she is also affiliated with the Center for Evidence-based Security Research (led by her advisor Stefan Savage) as well as the Systems and Networking group and the Crypto and Security group. Mirian completed her undergraduate degree in computer science at the University of Michigan.
Stephanie Chen is the outgoing Vice President of GradWiC. During the spring quarter, Stephanie Chen was head teaching assistant for Professor Bill Griswold's course on Software Engineering (CSE 110). This summer she is doing a software engineering internship at Intuit in San Diego, where she serves as a back-end developer on Intuit's Data Science Decision Engine team. Last summer, Chen interned at SPAWAR Systems Center, also in San Diego. She completed B.A. (Environmental Economics) and B.S. (Business Administration) degrees from UC Berkeley. Chen subsequently worked for Google for four years, primarily for its YouTube unit, before enrolling in UC San Diego to earn a computer science degree (which she expects to complete in the fall or winter quarter).
Both students will be part of a large delegation of UC San Diego faculty and students, most of them from the Computer Science and Engineering department, including many who have made a point of attending the Grace Hopper event several years runnning.
Travel Grant recipients Chen and Mirian will report back to CNS colleagues after the conference.
Related Links