CSE Alumnus Leverages Machine Learning to Help Companies (and Hometown) Grow
UC San Diego computer science alumnus Matthew Der (Ph.D. '15) was one of the few fresh graduates from the Computer Science and Engineering department who did not opt to work for a West Coast technology giant like Amazon, Microsoft, Facebook or Google (where he did two summer internships during graduate school). Instead, he returned home in September 2015 to the fast-growing RVA technology corridor (in Richmond, Virginia) to become a partner and Chief Technology Officer in Notch, a local tech consulting startup that was barely a year old.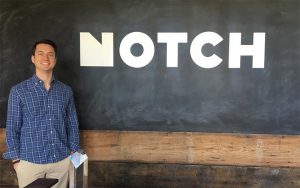 "I love Richmond as a city and I am passionate about entrepreneurship and the technology community here," said Der. "Part of Notch's mission is to be a West Coast-caliber boutique tech consultancy in central Virginia. You don't need to go to the Bay Area or NYC to find one."
For the second year in a row, Notch was a finalist for the top Emerging Technology Business award given out by RichTech, an association of local technology businesses and tech professionals. Last year they came close, but at the 22nd annual Technology Awards show on May 10, Der and his colleagues were honored with the award for startups or small businesses demonstrating the ability to achieve commercial success.
Nearly 800 people attended the award ceremony at the Greater Richmond Convention Center.
Der credits his education in CSE for providing an important leg-up for success in any market. "It's mostly the alignment of my expertise and the industry trend of artificial intelligence and machine learning," explained Der. "Having a Ph.D. in machine learning is a big differentiator, especially in a mid-sized market. It immediately gave us street cred, sales material and conversation starters."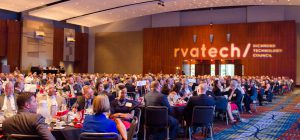 As CTO, Der's primary role is to oversee Notch's data science and machine learning consulting. He is responsible for successful delivery of predictive solutions to Notch's clients as well as internal training, and the company's services are in strong demand from companies that need to use data more effectively to fuel business growth.
"In some sense we're riding the AI wave with everyone else," noted Der. "But we've found that while everyone is talking about the hype, many still don't understand how their business can leverage AI to gain a competitive advantage."
While in CSE Der focused on machine learning applications to security, and in particular, web page clustering and classification. He was involved in the AI, Systems and Networking as well as Security research groups under advisors Lawrence Saul, Geoff Voelker and Stefan Savage, and the Center for Networked Systems.