Eustaquio Aguilar Ruiz Named Alan Turing Memorial Scholarship Recipient
Eustaquio Aguilar Ruiz, a senior majoring in physics with a specialization in computational physics, has received the 2020-2021 Alan Turing Memorial Scholarship from UC San Diego's Center for Networked Systems (CNS). This is the fifth year that CNS has recognized a student majoring in programs touching on networked systems who is active in supporting the LGBT+ community.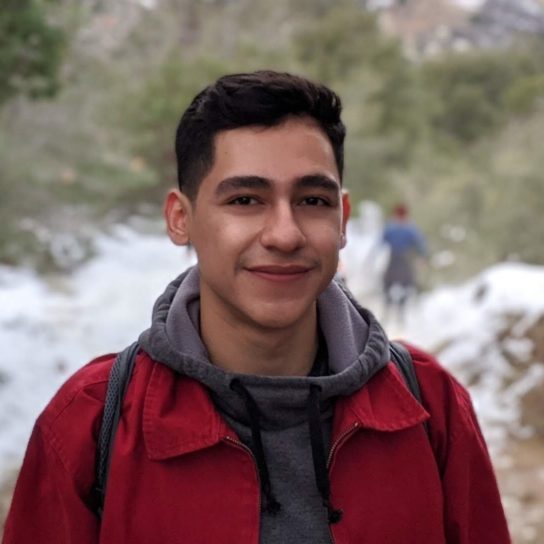 CNS established the Alan Turing Memorial Scholarship in 2015 to pay homage to the cofounder of computer science, Alan Turing, the famed cryptanalyst, and mathematician. His work accelerated the Allied victory in World War II by more than a year. After the war, Turing was persecuted for his orientation as a gay man. He died by suicide in 1954.
"The Turing Scholarship at UC San Diego is a unique way that we, as a community, show how much we value diversity, particularly diversity aimed at the LGBT+ community. Diversity is essential to strengthening our center and is in line with our university's mission," said CNS Co-director and Computer Science and Engineering Associate Professor George Porter.
Ruiz arrived in the United States from Mexico when he was two years old. Through financial hardship, Ruiz and his mother and stepfather have persevered. Ruiz has been able to charter his academic path with his ultimate goal in mind– to obtain a higher education degree, which had been unimaginable for his ancestors. "Joining college made me feel liberated, but I also felt, more than ever, the personal responsibility of continuing to assist those in my community," said Ruiz.
The adversity Ruiz faces as a gay Latino first-generation college student has fueled him to actively serve the communities with which he identifies. During his college career, he has been involved with the UC San Diego LGBT Resource Center, the Queers and Allies of Eleanor Roosevelt College, and he is in his third year of serving as a peer mentor for the First-Generation Student Success Coaching Program. With the skills he has learned, he has fostered an inclusive and empowering environment for more than 50 first-generation college students from UC San Diego. Ruiz is currently involved with the UC San Diego oSTEM organization, but he said when he first attempted to join more STEM-related organizations, "I felt so misplaced."
"I feel that many who are LGBT+, along with other marginalized identities, struggle with finding a welcoming place. The Alan Turing Memorial Scholarships represent hope and opportunity for students with complex and diverse identities in the LGBT+ communities," he said.
The scholarship is open to undergraduates who are active supporters of the LGBT+ community and majoring in computer science, computer engineering, public policy, communications, and other programs touching on networked systems. It is awarded to students based on academic merit, with a preference for those with demonstrated financial need.
CNS reached its endowment goal of $250,000 in February 2020. Many individual donors and corporate donors made this possible, including a generous donation from the Amateur Radio Digital Communications (ARDC) in memory of Brian Kantor, WB6YT, a UC San Diego alumnus who worked at UC San Diego for 47 years and founded the ARDC.