Photonic Technology Research Receives Department of Energy Phase II Award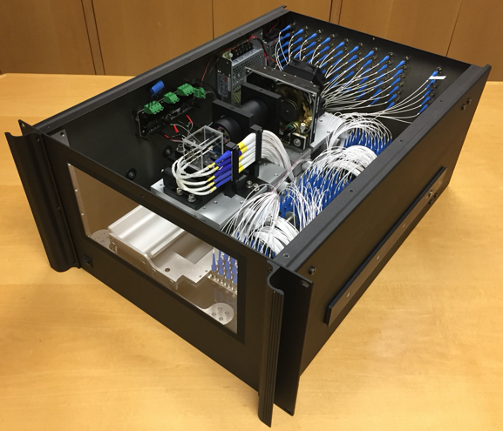 CNS faculty members George Papen, George Porter, and Alex Snoeren, along with fellow professor Joe Ford are part of a team that was awarded Phase II of the Department of Energy ARPA-E Award. The research team is developing a new datacenter network based on photonic technology that can double the datacenter's energy efficiency. Their LEED project mirrors the development of CPU processors in PCs. Previous limitations in the clock rate of computer processors forced designers to adopt parallel methods of processing information and to incorporate multiple cores within a single chip. The team envisions a similar development within datacenters, where the advent of parallel lightwave networks can act as a bridge to more efficient datacenters. This architecture leverages advanced photonic switching and interconnects in a scalable way. Additionally, the team will add a low-loss optical switch technology that routes the data traffic carried as light waves. They will also add the development of packaged, scalable transmitters and receivers that can be used in the system without the need for energy-consuming optical amplification, while still maintaining the appropriate signal-to-noise ratio. The combination of these technologies can create an easily controllable, energy-efficient architecture to help manage rapidly transitioning data infrastructure to cloud-based services and cloud-based computing hosted in datacenters.
Datacenters are a critical component of the modern internet, responsible for processing and storing tremendous amounts of data in the "cloud." Datacenters also provide the computational power needed for handling "big data," a growing segment of the U.S. economy. Currently, datacenters consume more than 2.5% of U.S. electricity, and this figure is projected to double in about eight years due to the expected growth in data traffic. There are many approaches to improving the energy efficiency of datacenters. Still, these strategies will be limited by the efficiency with which information travels along metal interconnects within the data center devices—all the way down to the computer chips that process information. Unlike metal interconnects, photonic interconnects do not rely on electrons flowing through metal to transmit information. Instead, these devices send and receive information in the form of photons—light—enabling far greater speed and bandwidth at much lower energy and cost per bit of data. The integration of photonic interconnects will enable new network architectures and photonic network topologies that hold the potential to double overall datacenter efficiency over the next decade.
If successful, developments from ENLITENED projects will result in an overall doubling in datacenter energy efficiency in the next decade by deploying new photonic network topologies