Former CSE/CNS Professor Elected to National Academy of Engineering
Former UC San Diego computer science and engineering and Center for Networked Systems professor George Varghese has been elected to membership in the National Academy of Engineering. He is among the 84 new U.S. members (and 22 foreign members) elected to the organization in 2017. Varghese was cited for his contributions to "network algorithmics that make the Internet faster, more secure, and more reliable."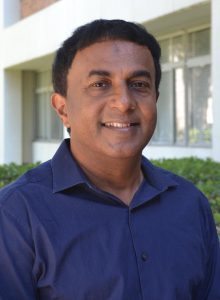 Varghese — who was on the UC San Diego faculty from 2000 to 2012 — is currently a Chancellor's Professor in the Department of Computer Science at UCLA. He returned to the University of California in August 2016, roughly four years after stepping down from his full professorship at UC San Diego to work for Microsoft Research in Silicon Valley.
More than a decade ago, while still at UC San Diego, Varghese took a leave of absence in 2004 to co-found NetSift, Inc., with his Ph.D. student Sumeet Singh (Varghese as president, Singh as NetSift's chief scientist). The company developed automated techniques for learning and detecting attack signatures. Barely one year later, NetSift was acquired by Cisco Systems in 2005, and Varghese extended his faculty leave to help Cisco transition the NetSift technology to a 20-Gigabit-per-second chip called Hawkeye. (Singh went on to work for Cisco for seven years.) CNS co-director Stefan Savage co-authored some of the early work on the NetSift technology, as did Varghese's Ph.D. student Cristian Estan, who is now at Google.
Among Varghese's honors, he received the Koji Kobayashi Award for Computers and Communications in 2014 for his work in network algorithmics and its applications to high-speed packet networks. The same year, he received the SIGCOMM Lifetime Award for "sustained and diverse contributions to network algorithmics, with far-reaching impact in both research and industry."
Varghese completed his Ph.D. at MIT in 1993, after doing his Master's degree at North Carolina State. He did his undergraduate work at the Indian Institute of Technology (IIT) Bombay, which awarded Varghese its Distinguished Alumnus Award in 2015. In 2002 he was elected a Fellow of the ACM.